Campaign Flags of our Politicians
I posted about the new Obama poster that was an impressionistic version of the U.S. flag wherein the "O" replaced the field of stars and there were a few artsy-ish type stripes. You know the one.

Well, apparently the left got their
spin machine going
and found an example from 150+ years ago to try to legitimize the usage in modern times (h/t to
Sam Howard
). The example? Why, none other than Honest Abe!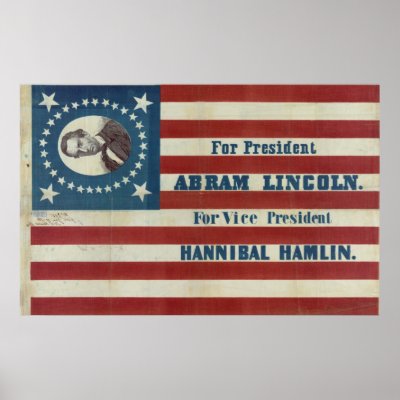 Actually, that's a little more reminiscent of the Obama flag from 2008:
But I can do them several better. (History alert!): It looks like Lincoln wasn't the only one to do such a thing. In fact, it appears as if it was indeed a common political practice during that campaign and contemporary ones….over 100 years ago:
There is an important caveat, though. The way a political campaign was waged and organized back then is completely different than today. In short, none of the above had a centralized campaign store selling items. More often than not, these items were produced at the local level. Basically, while it appears as if it was a common practice to use the U.S. flag, there is no telling whether the candidates themselves explicitly endorsed such usage. Nonetheless, the practice appears–at least going by the latest examples I could find–to have lasted until around the turn of the last century. Apparently by then the usage of a portrait in place of the stars had been discarded.
Since then, nothing. Well, that is unless President Obama would like to be compared to the Presidential Candidate who last used such a device.
All in all, I find it amusing that the left is suddenly interested in the cultural mores of the mid-19th century as a reference point. Oh, and those of Richard Nixon.
Show your support for Anchor Rising with a 25-cent-per-day subscription.