Just to make you think (h/t):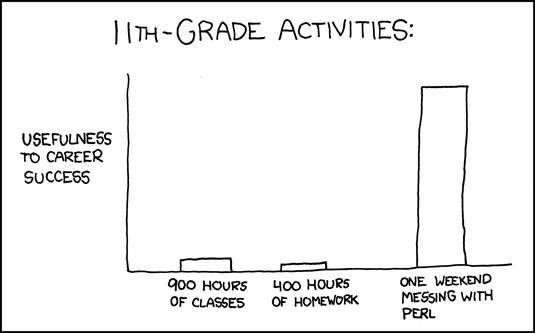 Now, it's a gross simplification, to be sure. I'd add a column labeled "Reading", for instance, and how much of the "classes" and "homework" laid the groundwork necessary for "perl". But the point being made is this: the basics of education are necessary, but it is often what kids do on their own time, outside of school, that helps determine their future career path. So when do we allow them to start charting their own (guided or mentored) course instead of having them wasting their time by keeping them locked into the current, rigid k-12 system? I'm a great works/western civ. kinda guy, but not everyone is. Up to a point, all students should be educated with the basics, but by…say…the 11th grade, maybe its time to break the old mold and let the kids have more flexibility and choice in their education and their future.
Show your support for Anchor Rising with a 25-cent-per-day subscription.